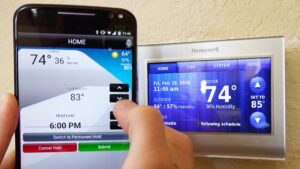 Wi-Fi thermostats really gained popularity thanks to snowbirds who, when they traveled, wanted to monitor and control their HVAC units remotely. Well, now since everything is done from a mobile phone or tablet, more and more people are installing Wi-Fi thermostats.  The primary draw is that it connects to your home's wireless Internet service and lets you remotely check and change the temperature in your home from an app on your smartphone or tablet — whether you're out-of-state or in your bed!
KCP&L offers Wi-Fi thermostats but often times they are installed incorrectly. We can look at your HVAC unit, give you options on thermostats that are right for you and install them without all the heartache! You also can go online and order the Wi-Fi thermostat on your own and we'll install it for you.
There are several benefits to installing a Wi-Fi thermostat, and here are the ones we think are most helpful:
Easy Programming: just download the app on your phone and/or tablet and enter the temps and the times you want.
Travel: it's important to monitor any issues that may arise while you're traveling or on vacation, especially during the cold months when units tend to freeze. This way you can always keep tabs on your HVAC system regardless of where you are in the world.
Convenience: if you're in bed and it's just a little too cold or hot during the middle of the night, no need to get out of bed and head to the thermostat because everything is at your finger tips on your mobile device.
Monitor: we at Blue Heating & Cooling can help you make your HVAC unit more efficient by servicing it every year. However, you can monitor the efficiency in the meantime to make sure you are getting the most bang for your buck.
If you have a KCP&L-installed thermostat, we're happy to come out and evaluate the installation, as well as help you pick the perfect Wi-Fi Thermostat for your needs!  Just let us know!